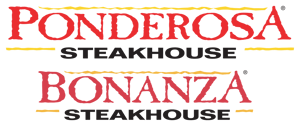 August 2013
Homestyle Dining, parent franchisor for Ponderosa and Bonanza Steakhouse, select Mirus for its reporting platform.
Homestyle Dining LLC of Plano, TX is the parent company and franchisor for over 200 Ponderosa and Bonanza Steakhouses spread over two continents. Their restaurants use over ten different POS systems on a variety of hardware to collect sales and transaction data. It's no wonder that when CEO Tom Sacco and CMO Jon Rice decided to consolidate, integrate and analyze their data, they had some tough criteria: the restaurant business intelligence solution system must be able to collect, integrate, analyze and communicate their disparate data, while also being user-friendly, flexible, and reasonably priced. Sacco and his team chose Mirus Restaurant Solutions of Houston, TX.
Currently, Homestyle has been cutting and pasting Excel spreadsheets for restaurant reporting and analysis. As CEO Sacco put it, "We have a lot of moving parts with our two legacy brands that span five decades. It's time for us to start lassoing them and making all our data work for us, not against us. The way we go about our business today is much more difficult than it needs to be. We want to make it easy for our operations and marketing teams, as well as our franchise marketing committee to analyze and assess new and existing product mix and measure check average impact from promotions concepts that we are looking at." The goal is for Mirus to bridge Homestyle's various systems, as well as provide their franchisees and senior management with customizable analytical tools that deliver restaurant exception-based reporting results and dashboards quickly to the right people.
Mirus CEO Dave Bennett is happy to accept the challenge. "We know that Homestyle looked at a number of restaurant operations analysis systems, and we're glad to see that our combination of integration power, adaptability and ease of use won them over. We look forward to the challenge of linking these various systems over different hardware and companies, different currencies and countries, but we know have the tools and the team to do the job."
About Homestle Dining LLC:
Plano, Texas-based Homestyle Dining LLC owns, operates and franchises family-focused restaurants throughout the United States and internationally under the Ponderosa Steakhouse and Bonanza Steakhouse brands, where guests enjoy flame-grilled steaks and entrees along with a high-quality buffet featuring an endless selection of salads, soups, appetizers, vegetables, and desserts at affordable prices. The soon-to-debut Bonanza Steak & BBQ in Eureka, Mo., will be a modern casual dining concept that celebrates Bonanza's American steakhouse heritage and modernizes it with an updated menu including new authentic, Southern-style BBQ offerings, an interior redesign around a butcher house theme, and full-service dining. Homestyle Dining recently introduced Cole's Backyard Grill, a truly unique experience around a rich, flavorful and creative American menu at fast casual pricing in an eclectic and comfortable environment. The first Cole's Backyard Grill opened in Lindale, Tex., in May 2014, with plans to open up to 250 restaurants in the next five years.
For more information, please visit: bonanzasteakhouses.com or ponderosasteakhouses.com
About Mirus:
Mirus provides decision makers across operations, finance and marketing with actionable intelligence. Our analytic software consolidates transactional information and a host of other data sources to measure and improve restaurant performance. Headquartered in Houston, Texas, Mirus is a recognized leader in restaurant business intelligence.
For more information, please visit: www.mirus.com